The American Littoral Society's post-Sandy surveys found 67% of Mid-Atlantic beach areas had moderate to high damage to bird and marine life habitats, including vital marshes.

"These marshes are protein factories, providing rodents, crabs and other species in the food chain," said Tim Dillingham, the society's executive director.

The storm also washed raw sewage, oil and other pollutants into marshes, bays and estuaries, but the long-term impact isn't yet known, Dillingham said.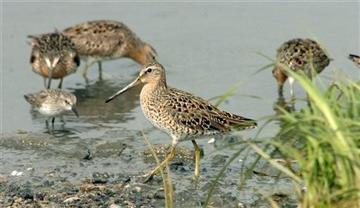 (AP Photo/The News Journal, Gary Emeigh). FILE - In this May 13, 2011 file photo, red knots rest at Slaughter Beach in Delaware during their annual migration.
New Jersey Herald - Sandy's wake leaves shore birds in dire straits